مقدمه
با لطف خداوند متعال کنفرانس روش های مدرن در قیمت گذاری های بیمه ای و آمارهای صنعتی در روز-های 12، 13 و 14 شهریور 1396 در دانشگاه بوعلی سینا در شهر همدان برگزار شد. محورهای اصلی در نظر گرفته شده برای این کنفرانس مشتمل بر محاسبات فنی بیمه و اکچوئریال، کاربردهای آمار در صنایع مختلف، روش‌های توصیف و تحلیل مه‌داده‌ها و سایر زمینه‌های مرتبط با آمار و اکچوئرال، با هدفِ ایجاد فرصتی مناسب برای تبادل ایده‌ها و اندیشه‌های علمی و تحقیقاتی بین پژوهشگران و دست اندرکاران داخلی و خارجی، و ارتقای جایگاه کشور در سطح بین‌المللی در زمینه‌های مرتبط با قیمت گذاری های بیمه ای و کاربردهای صنعتی آمار بود .
روند دریافت مقاله
در محدودة زمانی اعلام شده برای دریافت مقاله، ۱۲۸ عنوان در حوزه‌های مرتبط با اکچوئریال و آمار توسط دبیرخانة این کنفرانس دریافت شدند که از آن میان، پس از داوری، ۱۱۷ مقاله پذیرفته شد. از این تعداد، 84 مقاله برای ارائه به صورت سخنرانی و تعداد 33 مقاله در قالب پوستر در نظر گرفته شدند. توصیفی از مقاله‌های ارسال شده برای این کنفرانس در قالب چند نمودار در ادامه آمده است.
توزیع جغرافیایی نویسندگان مقاله‌های ارسال شده برای شرکت در کنفرانس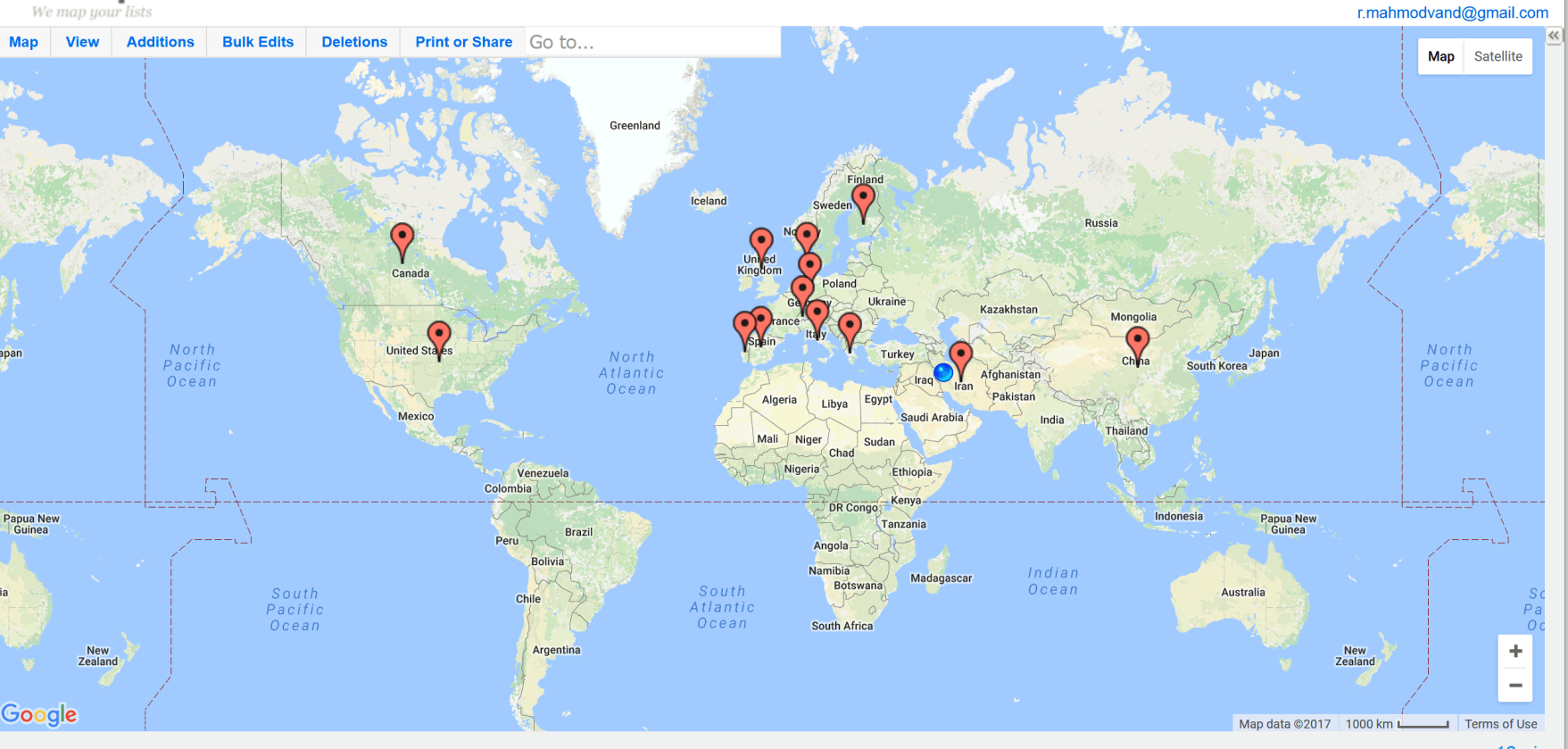 توزیع جغرافیایی نویسندگان مقاله‌های ارسال شده از استان‌های مختلف کشور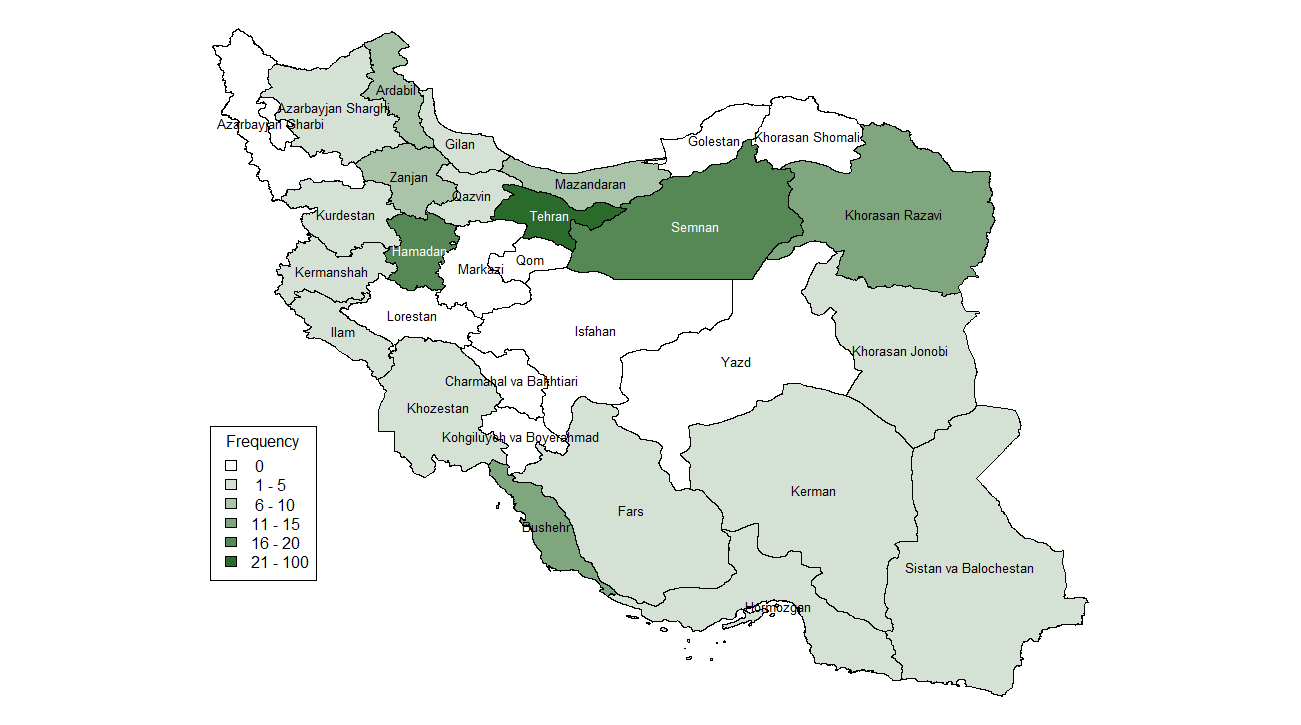 نمودار زمانی دریافت مقاله‌ها توسط دبیرخانه کنفرانس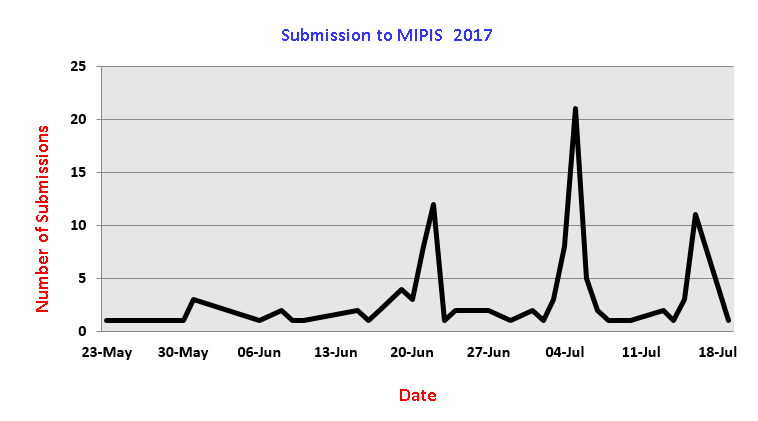 توزیع احتمال همکار نویسندگان

مراسم افتتاحیه:

طبق زمان‌بندی در نظر گرفته شده، مراسم افتتاحیه در صبح روز یکشنبه 12 شهریور از ساعت 8 تا 10 برگزار گردید. در این مراسم، پس از تلاوت قرآن کریم و پخش سرود جمهوری اسلامی، آقای دکتر نصیرالاسلامی (دبیر کنفرانس) ضمن خوشامدگویی به شرکت کنندگان سخنان کوتاهی دربارة کنفرانس ایراد کردند. در ادامه، آقای دکتر غلامی، ریاست محترم دانشگاه بوعلی سینا، ضمن بیان جملاتی در باب اهمیت موضوع و عنوان کنفرانس، به اختصار، وضعیت علمی و جایگاه دانشگاه بوعلی سینا را برای شرکت کنندگان تشریح کردند. پس از آن، آقای دکتر محمودوند، دبیر علمی کنفرانس، ضمن خوشامدگویی به شرکت کنندگان گزارشی دربارة مقاله¬های ارسال شده به دبیرخانه و برنامة پیش روی کنفرانس ارائه کردند. سپس، مراسم کوتاهی به منظور گرامیداشت یاد و خاطرة شادروانان دکتر ارقامی و دکتر عمیدی، آماردانان برجستة کشور که در تابستان ۱۳۹۶ فوت شدند، برگزار شد. در این یادبود آقای دکتر سیف متن یادبود دکتر عمیدی را که به قلم آقای دکتر محمدقاسم وحیدی اصل نوشته شده بود، قرائت کردند و آقای دکتر جباری سخنانی را در توصیف آقای دکتر ارقامی بیان کردند و کلیپ¬هایی از فعالیت¬ها و زندگینامه دو شادروان پخش شدند.
سخنرانیهای عمومی
تعداد 8 سخنرانی عمومی در سه روز کنفرانس ارائه شدند. سخنرانان و عناوین ارائه شده توسط آنها به شرح جدول زیر است:
| | | |
| --- | --- | --- |
| سخنران | دانشگاه/سازمان | عنوان سخنرانی |
| Søren Asmussen | Aarhus University | Bayesian Ideas for Premium Strategies |
| Ali Shojaie | University of Washington | Inference in High Dimensions with the LASSO |
| Jens Perch Nielsen | CASS Business School, United Kingdom | Improved customer in on-line customer communication and its statistical implications |
| Amir Safari | Insurance Research Center, Iran | Cat Risks and Insurance in Iran |
| Alireza Edalati | Actuary at VHV Insurance AG, Germany | The German Insurance Industry – Review and Perspectives |
| Amin Hassan Zadeh | Shahid Beheshti University, Iran | Modelling Joint Lifetimes of Couples by Using Bivariate Phase-type Distribution |
| Gholamreza Nakhaeizadeh | Karlsruhe Institute of Technology, Germany | From Statistics to Machine Learning and Big Data Mining: Application Cases from Automotive Industry |
| Hansjörg Albrecher | University of Lausanne, Switzerland | On the Optimality of Reinsurance Forms |
سخنرانی‌های موازی و ارائة پوسترها:
پس از سخنرانی‌های عمومی، که در جلسات صبح هر روز برگزار شدند، سخنرانی‌های موازی در سه سالن ارائه می‌شدند. برخی از سخنرانی‌ها به فارسی و تعداد قابل توجهی نیز به انگلیسی ارائه شدند. مباحث ارائه شده در سخنرانی‌ها تنوع موضوعی قابل توجهی داشتند و بیشتر آن‌ها در حوزة بیمة زندگی، بیمة غیرزندگی، ریسک، مه‌داده‌ها و کاربردهای صنعتی آمار بودند. چهار زمان اختصاصی در صبح و عصر روزهای کنفرانس به ارائة پوسترها اختصاص داده شده بود. با این وجود پوسترها در تمام اوقات قبل از تعویض در محل ارائه قرار داشتند.
کارگاه آموزشی:

در حاشیة کنفرانس، سه کارگاه آموزشی به شرح جدول زیر برگزار شدند. کارگاه سوم به صورت اسکایپی برگزار شد که تجربه‌ای موفق از برگزاری کارگاه‌ها به صورت اسکایپی برای دانشگاه در بر داشت.
| | | | |
| --- | --- | --- | --- |
| | سمت | عنوان | |
| علی شجاعی | دانشیار دانشگاه واشینگتن آمریکا | یادگیری ماشین با کاربردهای صنعتی آن | حدود ۴۰ نفر |
| علیرضا عدالتی | دکتری اکچوئری شاغل در آلمان | نرخ‌گذاری بیمه‌ای با استفاده از مدل‌های خطی تعمیم یافته با نرم افزار SAS | حدود ۲۵ نفر |
| دیوید ریوس اینسوا | استاد موسسه آی‌سی‌مت اسپانیا | مدیریت ریسک در مه ‌داده‌ها و کاربرهای آن در صنعت | حدود ۳۰ نفر |
برنامة گردشگری

علاوه بر برنامه‌های علمی کنفرانس، کمیتة اجرایی کنفرانس در محل ثبت نام میزی تحت عنوان میز گردشگری در نظر گرفت که راهنمای شرکت کنندگان برای مقاصد گردشگری باشد. در این میز بسته‌های تفریحی متنوعی پیشنهاد شدند، اما، به دلیل استقبال از تور غار علیصدر، در نهایت برنامة بازدید از این غار در بعد ازظهر روز دوم کنفرانس تنظیم شد. در این تور ۱۱۲ نفر شرکت کردند.
برنامه‌های فرهنگی

با ابتکار گروهی از دانشجویان دانشگاه های مختلف، با تعدادی از سخنرانان داخلی و خارجی در خصوص زندگی‌نامه، تجربه‌های آنها در موضوع‌های مرتبط با بیمه، و نیز وضعیت بیمه در ایران و برنامه‌های کنفرانس مصاحبه شد. برای مشاهده این ویدئوها به لینک زیر مراجعه کنید:
http://www.aparat.com/amaresh96
اختتامیه:
در ظهر روز سه شنبه 14 شهریور، پس از تلاوت آیاتی از قرآن کریم و پخش سرود جمهوری اسلامی، ابتدا آقای دکتر نصیرالاسلامی، دبیر کنفرانس، از حضور شرکتکنندگان و حمایت همة کسانی که در برگزاری این کنفرانس سهیم بوده¬اند تقدیر کردند. در ادامه، آقای دکتر محمودوند، دبیر علمی کنفرانس، ضمن تقدیر از مشارکت و حمایت همة دستاندرکاران کنفرانس، ارائهکنندگان مقاله‌ها، و برگزارکنندگان کارگاه‌ها، از ارائهکنندگان مقاله‌ها دعوت کردند تا مقاله¬های خود را برای بررسی به دو نشریه¬ای که شمارة ویژه‌ای برای این کنفرانس در نظر گرفته¬اند ارسال کنند. آقای دکتر سیف، دبیر اجرایی کنفرانس، نیز از زحمات همة مشارکتکنندگان و دانشجویانی که در برگزاری کنفرانس سهیم بودند تقدیر کردند. در ادامه، تعدادی سیمکارت دائمی توسط شرکت همراه اول به قید قرعه به برندگان اهدا شد. مراسم با ثبت عکس¬هایی دستهجمعی از حاضرین به پایان رسید.
حامیان کنفرانس